Biennial "State of the Bay" report grades it at 32 out of 100, putting a key 2025 goal at risk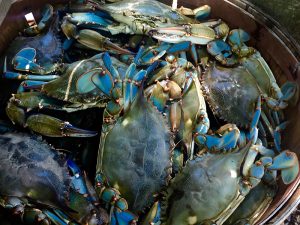 By
Fredrick Kunklen – Washington Post
January 6, 2023 at 5:00 a.m. EST
The effort to restore the Chesapeake Bay has made little overall progress the past two years, with improvements in some categories offset by stagnation or deterioration in others, a new report has found.
The Chesapeake Bay Foundation's biennial State of the Bay report found that oyster harvests hit record numbers in the previous two years in Maryland and Virginia, and the bay's low-oxygen "dead zone" was among the smallest
recorded since monitoring began 38years ago — and yet the population of blue crabs plummeted to such worrisome levels that the organization suggested reassessing how crabs are managed.
Meanwhile, long-standing efforts to protect the bay's wetlands by creating buffers and planting trees have languished, with several states falling behind goals as tens of thousands of acres of open land in the watershed have been plowed under for urban and suburban development.
.
"I know that some of this news is frustrating to some, and I will count myself in this list," Hilary Harp Falk, the bay foundation's president and chief executive, said during a news briefing. "While we've made significant progress, far too much pollution still reaches our waterways."
The environmental nonprofit's report is yet another sign that state and federal efforts to restore the bay by achieving several measurable targets by 2025 will probably fall short. The report assesses 13 indicators of the bay's health in three categories — pollution, habitat and fisheries — and grades each of them on a scale of 100. In 2022, the overall score remained at 32, as in 2020, with three indicators higher, three lower and seven unchanged.
A perfect score would theoretically reflect what the bay was like when Europeans arrived more than 400 years ago, before industrialization and development, the report says. Hitting 70 would be considered a sign of restoration.
Levels of phosphorous and nitrogen — two naturally occurring chemicals that feed algae blooms and create huge dead zones in the bay — fell below 10-year averages in 2021, thanks largely to upgrades of wastewater treatment plants. But the report says more must be done to reduce these pollutants by limiting agricultural and urban-suburban runoff, an effort that will require additional government funding and cooperation from farmers, including small family farms in the watershed.
Levels of durable industrial pollutants such as mercury and polychlorinated biphenyls in the Chesapeake remain about the same, according to the report. But the detection of newer and less understood pollutants in the water, such as PFAS — so-called
"forever chemicals" composed of per- and polyfluoroalkyl compounds — pose additional problems.
Global warming has complicated rescue efforts further, as rising sea levels inundate wetlands and more intense storms rip up underwater grasses that shelter aquatic life and oxygenate the water, the report says.
Warmer water also holds less oxygen, a phenomenon documented in a recent study that has offset the benefits of some restoration efforts, said Beth McGee, the bay foundation's director of science and agricultural policy.
The report says several strategies that could clean the water have been shown to work, but regional governments need to do more to implement them. One of the most cost-effective is planting trees in buffer zones along streams and wetlands, McGee said.
Trees shade stream beds, cooling the water, and they absorb carbon from the atmosphere to reduce global warming. Yet, McGee told reporters, the bay states are "woefully behind" on their targets for forested buffers.
The foundation's report comes as two members of Maryland's congressional delegation hope to spotlight the nation's largest estuary and incorporate the watershed into the national park system by creating the Chesapeake National Recreation Area.
See original article at Chesapeake Bay cleanup stalls as blue crabs drop and pollutants remain – The Washington Post